DANCE XPERIENCE NASHVILLE 2019​
EVENT & PARTY REGISTRATION & PAYMENT
DANCE XPERIENCE
​NASHVILLE 2019
THURS, SEPT 5- SUN, SEPT 8, 2019
FULL WEEKEND PASS INCLUDING SPECIAL FUN SUNDAY NIGHT PARTY
​ONLY $169.00 PER PERSON -
FOR 4 NIGHTS OF SOCIAL DANCE AND
​3 FULL DAYS OF DANCE WORKSHOPS!​

PRE-EVENT PRIVATE PARTY
DOWNTOWN LOCATION
​TO BE ANNOUNCED
WEDNESDAY NIGHT, SEP 4, 2019
SNACKS BUFFET INCLUDED
​CASH BAR
ENTERTAINMENT & DANCING
ONLY $35 PER PERSON - FOR OUR KICKOFF PARTY IN THE BROADWAY PARTY DISTRICT
SORRY, NO WALK-IN ADMISSIONS - NO DAY PASSES -
NO REFUNDS​ UNDER ANY CIRCUMSTANCES
---
THIS DISCLAIMER APPLIES TO YOU AND ALL PERSONS FOR WHOM YOU PURCHASE EVENT TICKETS
Your submission of this registration form stipulates that: "You (or your guardian) agree to hold the organizers of this event and their agents, heirs and assigns harmless from all suits, claims or demands of every kind and character arising out of and in conjunction with this event. You understand the physical risks of social dancing and assume full responsibility for any injury or personal damages resulting from such activities at this event. You certify that you are at least 18 years of age (applicable to Legal Guardian if registrant is under 18 years of age)."
SOLD OUT!!
Don't Send Money


1. ONLINE REGISTRATION AND PAYMENT​


You can register and pay online using a MAJOR CREDIT or DEBIT CARD, a linked bank account or directly through PayPal Credit. Handle your Registration and Payment in one easy step.​ If you pay via PayPal, you DO NOT need to fill out any other registration form.You do not need to have a PayPal account to use this service. PayPal will handle the currency conversion for Non-US dancers. There are three options under the dropdown box labeled "BUY TICKETS BELOW". Choose one or more.

Event Registration is $169/person. Add $5 Convenience Fee when you use PayPal, credit or debit. Total Cost = $174.00.
Spectator Pass: This is for non-dancers/spouses to have access to the ballroom. Total Cost = $65.00.
​Wed. Private Party - Location TBD (Wed, Sept 4, 2019) Total Cost = $35/person.

​Select the items you want and click "Add to Cart". You can change the number of tickets for any item in the Cart! You can return to this page to select additional items and add to cart. When finished, click on "VIEW CART" to verify your order and complete payment.
​
PLEASE ADD THE NAME OF THE PERSON USING THE PASS IN THE SPACE PROVIDED BELOW. IF BUYING TICKETS FOR OTHERS, PLEASE INDICATE THE NAMES OF THE OTHERS IN THE LAST BOX, OR SEND AN EMAIL WITH THE ADDITIONAL NAMES.

SOLD OUT!!
Don't Send Money


or 2. REGISTER BY MAILING THE FORM & A CHECK​


You can pay by check by downloading the Registration Form using the button at the bottom of this section.

​Please note that mailing a check does not guarantee your registration. If we have a very high online registration volume as we did in 2017, it is possible that we may be sold out BEFORE we ever receive your check.

​Complete the form with your information and include a check or money order (payable in US funds) for payment. Choose one or more.

Event Registration is $169/person. Total Cost = $169.00.
Spectator Pass: This is for non-dancers/spouses to have access to the ballroom. Total Cost = $65.00.
​Wed. Private Party - Location TBD (Wed, Sept 4, 2019) Total Cost = $35/person.

If you are registering for more than one person please include separate forms for each one.

Make check payable to Sandy Albano.
Mail the form and the check to Sandy Albano, 461 Citadel Drive, Altamonte Springs, FL 31724
YOU WILL RECEIVE AN EMAIL CONFIRMATION OF YOUR REGISTRATION ONCE IT HAS BEEN RECEIVED.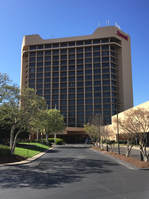 HOTEL RESERVATIONS COMING IN OCTOBER!
The hotel link cannot be opened until 11 months before the event. As soon as it is available, we will be advising all registered event guests when you will be able to reserve your hotel room. Up to 4 in a room for $154/night. Great value, great city, great hotel, awesome fun!



---