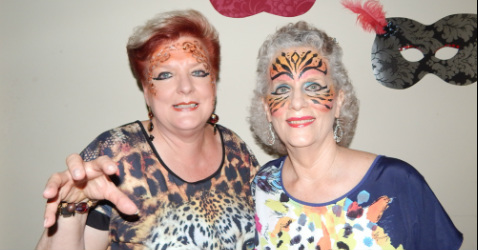 Diane Petoskey & Sandy Albano - Line Dance Instructors
Classes in Casselberry & Maitland, FL (just north of Orlando)
Website Updated on: 9/28/2016
WEBSITE UPDATES FOR SEPT 2016:​
BIG ANNOUNCEMENT ABOUT NEW DANCE CLASSES!
Some classes will start next week and some will start in early October.
Look for the calendar. Once the regular classes start, the following applies:
​
WE HAVE FINALIZED ARRANGEMENTS AT TWO NEW LOCATIONS FOR OUR DANCE CLASSES!
We will be at the Woman's Club of Casselberry on Monday and Friday.
We will be at the Maitland Senior Center on Tuesday and Thursday.

WE HAVE MORE SPACE, BETTER AIR CONDITIONING AND NICER FACILITIES
We would love to have more dancers! Please invite your friends to try us out!

WE ARE ADDING TWO MORE WEEKLY CLASSES
We are adding a Beginner/Improver class and a Second Chance Class.

WE'RE REORGANIZING OUR SCHEDULE TO FIT THE MAJORITY OF DANCERS.
No classes will be held on Wednesday.
*NO MORE CLASSES WILL BE HELD AT THE BOWLING ALLEY.
PLEASE SEE THE NEW WEEKLY CLASS WEBPAGES FOR MORE INFORMATION.
---
DIANE & I ARE ENCOURAGING OUR DANCERS TO
JOIN US
ON OCTOBER 15TH FOR THIS EVENT! SEE BELOW FOR INFORMATION. SEE THE BUTTONS AT THE BOTTOM TO DOWNLOAD THE REGISTRATION
SUBJECT: Dancin' with Marilyn, Ocala, FL
FROM: Marilyn McNeal,
BoarsNestFarm@aol.com
October 15, 2016, CELEBRATE LIFE! LINE DANCE PARTY/SOCIAL/FUNDRAISER!
It's almost here! This Line Dance event is not a workshop, but instead, a thankful celebration of life as we experience it today. The money raised will be donated to three worthy agencies: Hospice of Marion County (provides medical, emotional and physical care), HUGS of Ocala, (assists families whose lives have been adversely affected by Cancer – my own Radiation Oncologist is a prime sponsor of HUGS), and Michelle-O-Gram of Dunnellon (assists women who cannot afford mammograms).
Your entry fee includes a wonderful day of dance and fellowship, donuts and coffee in the morning, Ray's famous barbecue lunch with all the trimmings, plus an awesome gift bag of cool things, including your first 10 raffle tickets for our amazing, innovative baskets. We're counting on you wanting to buy MORE tickets when you see those baskets. The 50/50 drawing will be a separate offer so bring some extra cash!
Please send me your pictures for our Memory Board (those lost to Cancer) by
Sept. 25th so we can complete the board. Remember to put their name on the back and to take your picture home with you at the end of the day.
We recommend any of the great variety of hotels on SR 200 in Ocala for those staying overnight. We'll send directions from SR 200 exit to the Marion County Southeast Livestock Pavillion where this event will be held. It's a 10-15 minute drive from SR 200 to both the event location and our house, where the After-Party starts in the Barn around
7PM for anyone registered for this event.
All the information is on our website at
www.Rhythm-in-my-soles.com
. I'm a Survivor, as are many of you! We are grateful for those who helped us through! Our theme is simply to CELEBRATE LIFE! Come dance with us and help raise some money for those who need it.
---
PRAYER REQUEST: Many of you know our dance friend, Linda Brackett who lives in the Del Webb community near Ocala, FL. Linda was diagnosed with cancer last year and she has been fighting the biggest battle of her life. She recently delighted her friends by turning up at a local dance event. What a wonderful surprise, but the fight is not over. Would you please continue to keep her and many of our other dance friends in your thoughts and prayers until they can all join us on the dance floor again!
---
DANCE XPERIENCE 2017 IN NEW ORLEANS IS SOLD OUT!
REGISTRATION IS CLOSED. The Payment Page on this website is Disabled. ​

AFTER LESS THAN FIVE DAYS OF REGISTRATION WE HAVE SOLD ALL OF OUR AVAILABLE SPACES FOR THIS EVENT AND WE ARE SUSPENDING OUR ONLINE REGISTRATION.

THANKS TO ALL OF YOU FOR THIS UNPRECEDENTED RESPONSE AND FOR YOUR AMAZING INTEREST AND SUPPORT OF THIS EVENT!!!

THIS WILL BE OUR ONE AND ONLY DANCE XPERIENCE EVENT IN 2017!
---
CLICK the "Dance Xperience New Orleans 2017" EVENT LINK Menu for Information about:
Dance Xperience New Orleans 2017
​Hotel Reservations Online and by Phone
Hotel Location and Amenities​
​Suggestions for: Food, Drink, Sightseeing, Entertainment and Transportation

MORE INFO & FEATURES WILL BE ADDED TO THESE PAGES AS WE GET CLOSER TO THE EVENT:

Preliminary Schedule of times and days
Info on the Wed. Meet & Greet at BB King's
Practice List of Dances Guaranteed to be Played
​Details on our FAB! new event shirts!


...and more. Check back from time to time
---
---
We welcome your feedback and suggestions. Please feel free to contact me and thanks for your time to visit today!
---
---
Website launch date 6/22/2014