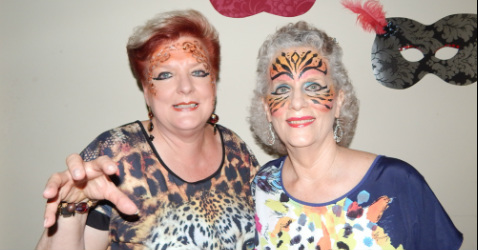 Diane Petoskey & Sandy Albano - Line Dance Instructors
Altamonte Springs, FL (just north of Orlando at I-4 exit #92)
Website Updated on: 1/31/2016
WEBSITE UPDATES FOR JANUARY 2016:
Check out our new format! Coming up in April of 2016, we will be hosting back to back line dance weekend events featuring 4 of your favorite line dance personalities in
Orlando, FL
and in
Portland, OR
. Click the links below to learn more.
Registrations are building up for both Dance Xperience events. If you plan to come,
now is the time to work on getting your registrations in!
---
SUNDAY SOCIAL DATES
2016 Schedule To Be Announced


SUNDAY Social:12:30 pm to 5:00 pm Whirl & Twirl Dance Club 6949 Venture Circle, Orlando, FL 32807
You can send in your requests for the next Social at any time.
See More

Dance Xperience

---
---
---
We welcome your feedback and suggestions. Please feel free to contact me and thanks for your time to visit today!
---
When Do We Have Our Weekly Classes?
For Beginners, see Links to Places to Dance in Central Fla
---
TUESDAYS

Classes for Improver & Intermediate dancers.

Special Early Bird Intermediate teach at 5pm to 6pm. Regular class starts at 6pm.

All ages - teens and up - are welcome!
All types of music.
All Styles of dance.

---

WEDNESDAYS

Classes for Intermediate to Advanced dancers.

Early Bird Reviews at 5:00 pm. Regular class starts at 5:45pm.

These classes are for experienced dancers. We focus on Event Dances written by choreographers from around the world and we use mostly current popular music.

---
---
---
Where Do We Have Our Weekly Classes?
All Weekly Classes are held in the Party Room at the AMF Altamonte Lanes located at 280 Douglas Avenue, Altamonte Springs, FL 32714. This is north of Orlando, at Exit 92 on Interstate 4. From Exit 92, go west on State Road 436 (E. Altamonte Dr.) to the first traffic light at Douglas Avenue and turn North (right, toward SR 434). AMF is about 1 block up on the west side of Douglas next to the Waffle House.
---
Website launch date 6/22/2014