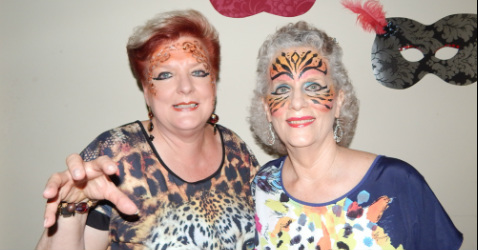 Diane Petoskey & Sandy Albano - Line Dance Instructors
Altamonte Springs, FL (just north of Orlando at I-4 exit #92)
Website Updated on: 5/24/2016

WEBSITE UPDATES FOR MAY-JUNE 2016: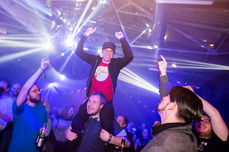 DANCE XPERIENCE 2017 IN
NEW ORLEANS IS SOLD OUT!
REGISTRATION IS CLOSED. The Payment Page on this website is Disabled. ​
AFTER LESS THAN FIVE DAYS OF REGISTRATION WE HAVE SOLD ALL OF OUR AVAILABLE SPACES FOR THIS EVENT AND WE ARE SUSPENDING OUR ONLINE REGISTRATION.
THANKS TO ALL OF YOU FOR THIS UNPRECEDENTED RESPONSE AND FOR YOUR AMAZING INTEREST AND SUPPORT OF THIS EVENT!!!
IF YOU STILL WISH TO COME, PLEASE
EMAIL SANDY
AND WE WILL PUT YOUR NAME ON A WAITING LIST. THE EVENT IS STILL 11 MONTHS AWAY AND IT IS VERY LIKELY THAT WE WILL HAVE CANCELLATIONS.
THIS WILL BE OUR ONE AND ONLY DANCE XPERIENCE EVENT IN 2017!
---
CLICK the "Dance Xperience New Orleans 2017" EVENT LINK Menu for Information about:
Dance Xperience New Orleans 2017
​Hotel Reservations Online and by Phone
Hotel Location and Amenities​
​Suggestions for: Food, Drink, Sightseeing, Entertainment and Transportation

MORE INFO & FEATURES WILL BE ADDED TO THESE PAGES AS WE GET CLOSER TO THE EVENT:

Preliminary Schedule of times and days
Info on the Wed. Meet & Greet at BB King's
Practice List of Dances Guaranteed to be Played

...and more. Check back from time to time
SAVE THE DATE (and RSVP, please): Saturday, July 9, 2016
Dear friends: After 34+ years on my job, I am finally going to officially retire from full time employment in July.
Since my birthday is July 9th, my good friend Diane Petoskey is throwing a party to celebrate both my birthday and my upcoming retirement! The party will be at our favorite local dance venue, the Whirl & Twirl Dance Club. Most of you know this place but the address is 6949 Venture Circle, Orlando, FL 32807. The party will be on my birthday, Saturday, July 9th from 12pm to 5pm.

I am delighted that Rachael McEnaney-White will be joining us and handling all the music and the playlist. There will be NO teaching on this day but it will be a fun social dance and you will be able to compose the playlist with your requests.
We will have lunch and cake to celebrate. You know Diane -- you won't go home hungry! But we will need to hear from you so that we know how many to plan for! Would you please RSVP to Diane at her email:
healthmanager1@aol.com
to let us know you plan to come? We will be sending out more info as we get closer to the date.
This is a pretty big day for me. It is a big birthday and it will be a big change in my lifestyle. There is no cost to attend the party and please do not bring gifts. I would be very honored to have you join us for the party!
​
PRAYER REQUEST: Many of you know our dance friend, Linda Brackett from The Villages in Florida. Linda has been diagnosed with cancer. It is serious and we are asking you to send your love and prayers her way to help encourage her in the biggest battle of her life. It is all about taking care of "the Family"!
---
---
SUNDAY SOCIAL DATES
Saturday, Sept 10, 2016 (we will have special guests from out of town joining us)
*There may be other dates scheduled in the interim but
​Sept 10 is already booked.

Registration for this event is closed. We are sold out. Thanks so much for your support!

---
---
---
We welcome your feedback and suggestions. Please feel free to contact me and thanks for your time to visit today!
---
When Do We Have Our Weekly Classes?
For Beginners, see Links to Places to Dance in Central Fla
---
TUESDAYS

Classes for Improver & Intermediate dancers.

Special Early Bird Intermediate teach at 5pm to 6pm. Regular class starts at 6pm.

All ages - teens and up - are welcome!
All types of music.
All Styles of dance.

---

WEDNESDAYS

Classes for Intermediate to Advanced dancers.

Early Bird Reviews at 5:00 pm. Regular class starts at 5:45pm.

These classes are for experienced dancers. We focus on Event Dances written by choreographers from around the world and we use mostly current popular music.

---
---
---
Where Do We Have Our Weekly Classes?
All Weekly Classes are held in the Party Room at the AMF Altamonte Lanes located at 280 Douglas Avenue, Altamonte Springs, FL 32714. This is north of Orlando, at Exit 92 on Interstate 4. From Exit 92, go west on State Road 436 (E. Altamonte Dr.) to the first traffic light at Douglas Avenue and turn North (right, toward SR 434). AMF is about 1 block up on the west side of Douglas next to the Waffle House.
---
Website launch date 6/22/2014