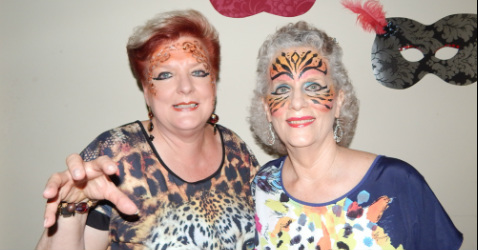 Diane Petoskey & Sandy Albano - Line Dance Instructors
Classes in Casselberry & Maitland, FL (just north of Orlando)
Website Updated on: 7/25/2017
WEBSITE UPDATES FOR JULY 2017:​
For July & August at Maitland Sr. Center
Open Dance from 5:00 to 5:30pm on Tuesdays & Thursdays before class
NO BEGINNER Classes for the summer until September 5.

---
REGISTRATION FOR THE DANCE XPERIENCE 2018 IS NOW OPEN!
AGAIN THERE IS A LIMIT OF 200 DANCERS FOR THIS EVENT!
CLICK THE MENU ITEM FOR 2018 DANCE XPERIENCE
Registrations are already going fast! Don't Wait!
​If you want a guaranteed spot we suggest using the PayPal Option.
There is still have space left if you wish to send a check in the mail.
THE HOTEL REGISTRATION LINK IS AVAILABLE TO ALL REGISTERED TO ATTEND.
WE HAVE SENT AN EMAIL ON MAY 11th WITH A LINK TO ALL THOSE
​WHO ARE REGISTERED SO YOU CAN RESERVE HOTEL ROOMS.
PLEASE CONTACT ME IF YOU ARE REGISTERED BUT DID NOT RECEIVE THIS EMAIL.
---
---
GOLD FOIL ​DANCE XPERIENCE NEW ORLEANS Event Shirts!
We still have some event shirts available. You can still place a shirt order and we will fill as long as we have sizes on hand. Shipping will be $5 additional.
We are excited to announce that we have completed work on what we think is one of our coolest event shirts ever! ​​These shirts come in Big Easy royal purple in ladies and mens styles and shout "NOLA DANCE XPERIENCE" in spectacular

GOLD FOIL

for everyone to see! CLICK HERE FOR THE DXNOLA SHIRT PAGE.
---
UPDATE ON DANCE XPERIENCE 2018 FUN ACTIVITIES:
GETTING AROUND TOWN:
The event hotel is located at the Louis Armstrong New Orleans International Airport (Airport Code: MSY). This is approximately 14 miles from downtown New Orleans. On our scouting trip last year, we found that parking in the city is hard to find and quite expensive so we used UBER & LYFT for getting around and found it to be safe and efficient. You can request a large car which will hold 4-6 people and if you share the average cost of about $25 for each way it is much cheaper than renting a car and then paying for parking. You can load both these apps on your phone, pay with a credit card and be picked up and dropped off at your door. You also don't have to have a designated driver.
We found this to be our best bet.

WEDNESDAY, FEB 14, 2018 - THE MEET & GREET PARTY!: Watch for details soon on our advance party with the choreographers planned for BB Kings Restaurant in the French Quarter. We hope you will plan to arrive in NOLA in time to join us for that! The party rocks on all night
with live music from some of the best New Orleans bands in town.
You can purchase tickets via the registration forms on this website for those who wish to attend.

SATURDAY, FEB 17, 2018 - MARDI PARTY!: For those of you who love costumes, our theme for Saturday Night will be a Mardi Gras party which is a very traditional celebration in NOLA. Right now is the perfect time to save money shopping for costumes and all kinds of fun accessories on sale online and in every store! We will also have a face painting station featuring our professional artist who was such a hit in 2017. Or bring your own stencils, face tattoos or other fun that you can use whether you elect to bring a costume or not! There won't be any competitions - This is all just for fun!

SUNDAY, FEB 18, 2018 - SUNDAY NIGHT CHILL PARTY: The last cool down, fun party! We had 70 dancers on the floor at 2:30AM in 2017. Plan to stay at least until Monday to take advantage of all the fun
CLICK the "2018 Dance Xperience New Orleans" Menu LINK for Information about:
Dance Xperience New Orleans 2018
​Hotel Reservations Online and by Phone
Hotel Location and Amenities​
​Suggestions for: Food, Drink, Sightseeing, Entertainment and Transportation

MORE INFO & FEATURES WILL BE ADDED TO THESE PAGES AS WE GET CLOSER TO THE EVENT:

Preliminary Schedule of times and days
Info on the Wed. Meet & Greet at BB King's
Practice List of Dances Guaranteed to be Played
​Details on our FAB! new event shirts!


...and more. Check back from time to time
---
---
We welcome your feedback and suggestions. Please feel free to contact me and thanks for your time to visit today!
---
---
Website launch date 6/22/2014