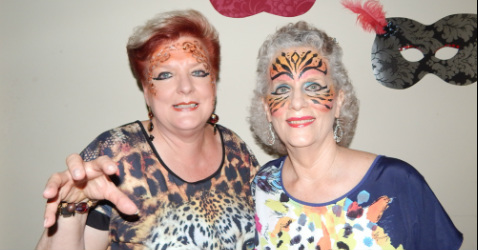 Diane Petoskey & Sandy Albano - Line Dance Instructors
Classes in Casselberry & Maitland, FL (just north of Orlando)
Website Updated on: 3/27/2017
WEBSITE UPDATES FOR February 2017:​
PARTY, PARTY, PARTY!!! - NOW!
We have opened registration for the Wednesday Private Party for the Dance Xperience New Orleans 2017.

Join us for a traditional New Orleans-style Dessert & Cocktail Buffet at BB King's in the famous French Quarter.

All our choreographers will be on hand to meet & greet!

CLICK TO VISIT THE PAGE AND PURCHASE TICKETS!

Teaser: Who's going to be joining us in Feb of 2018 to celebrate Mardi Gras and a primo dance event in the same week in New Orleans?

​Answer: Maybe you are! Watch for it!

---
---
Introducing Our New GOLD FOIL
​DANCE XPERIENCE NEW ORLEANS 2017 Event Shirts!
We have placed our shirt order, but we will have some extra shirts available at the event. You can still place a shirt order in advance if you wish and we will fill as long as we have sizes on hand.
We are excited to announce that we have completed work on what we think is one of our coolest event shirts ever!
​​These shirts come in Big Easy royal purple in ladies and mens styles and shout "NOLA DANCE XPERIENCE" in spectacular

GOLD FOIL

for everyone to see! CLICK HERE FOR THE DXNOLA SHIRT PAGE.
---
NOW AVAILABLE!

Click the menu item for

"GARY & JOEY PARTY WEEKEND"

for details of a weekend event in the Orlando area featuring our pals

Gary O'Reilly from Ireland

and

Joey Warren from WV.

Our event plans include:

​a Friday night dance in Casselberry
a Saturday workshop at the Whirl & Twirl
a Saturday night dance at The Barn in Sanford, FL.
​


FOR MORE DETAILS, SEE THE PAGE!

Congratulations to our pal, Gary O'Reilly who won THREE Crystal Boot Awards on January 28, 2017! Gary received awards as International Choreographer, International Instructor and for the Absolute Beginner dance of the year, "The Galway Gathering" which he co-wrote with Maggie Gallagher! We are proud to have him join us for our workshop in May along with our own "Mo'Boy", Joey Warren. Still space for you to join us and it is open to all levels.

---
---
UPDATE ON DANCE XPERIENCE 2017 FUN ACTIVITIES:
GETTING AROUND TOWN:
The event hotel is located at the Louis Armstrong New Orleans International Airport (Airport Code: MSY). This is approximately 14 miles from downtown New Orleans. On our scouting trip last year, we found that parking in the city is hard to find and quite expensive so we used UBER & LYFT for getting around and found it to be safe and efficient. You can request a large car which will hold 4-6 people and if you share the average cost of about $25 for each way it is much cheaper than renting a car and then paying for parking. You can load both these apps on your phone, pay with a credit card and be picked up and dropped off at your door. You also don't have to have a designated driver. We found this to be our best bet.
WEDNESDAY, APRIL 19, 2017 - THE MEET & GREET PARTY!:
Watch for details soon on our advance party with the choreographers planned for BB Kings Restaurant in the French Quarter. As soon as the current renovations to the club are finished, we will be announcing the details for the party. We hope you will plan to arrive in NOLA in time to join us for that! The party rocks on all night with live music from some of the best New Orleans bands in town. Keep an eye out for the announcement of the sale of the tickets via this website for those who wish to attend.
SATURDAY, APRIL 22, 2017 - DAY OF THE DEAD PARTY!:
For those of you who love the fancy dress, our theme for Saturday Night will be the Day of the Dead which is a very traditional celebration in NOLA. Right now is the perfect time to save money shopping for costumes and all kinds of spooky, scary accessories since Halloween costumes and accessories are on sale online and in every store! We will also have a complimentary face painting station. Bring your own stencils, face tattoos or other fun that you can use whether you elect to bring a costume or not! There won't be any competitions - This is all just for fun!
SUNDAY, APRIL 23, 2017 - SECOND LINE PARADE:
We'll be
ob
serving another New Orleans tradition on Sunday night as we invite a LIVE New Orleans Second Line parade into our ballroom.
Click here
for more information on what a Second Line Parade is.
You have probably seen photos of these jazz musicians playing their instruments while walking down New Orleans street with people dancing and following in their wake. The usual tradition is to
bring a kerchief or bandanna
to wave while dancing and enjoying the music. We would encourage you to to bring one of those along with you to wave in time with the music so you can fully enjoy the Second Line... Xperience! It might even come in handy if you decide to
​"Do Something Crazy"!!
CLICK the "Dance Xperience New Orleans 2017" EVENT LINK Menu for Information about:
Dance Xperience New Orleans 2017
​Hotel Reservations Online and by Phone
Hotel Location and Amenities​
​Suggestions for: Food, Drink, Sightseeing, Entertainment and Transportation

MORE INFO & FEATURES WILL BE ADDED TO THESE PAGES AS WE GET CLOSER TO THE EVENT:

Preliminary Schedule of times and days
Info on the Wed. Meet & Greet at BB King's
Practice List of Dances Guaranteed to be Played
​Details on our FAB! new event shirts!


...and more. Check back from time to time
---
---
We welcome your feedback and suggestions. Please feel free to contact me and thanks for your time to visit today!
---
---
Website launch date 6/22/2014